Ministry Insured Here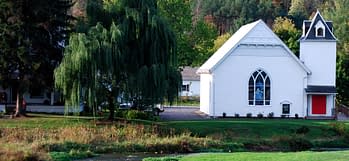 Visit our Church Insurance website.
It began over 40 years ago with a simple vision…"Become a ministry partner for religious institutions by developing a trustworthy independent insurance and risk management program that simplifies the process, provides honest coverage evaluation and reduces costs."
Today, this program serves over 3,000 churches and para-church ministries. It has expanded to include schools, daycares, camping and retreat centers, as well as faith based non-profit organizations, making it the largest religious institutions insurance program in the Northeast. Our position as an independent agency allows us to use an unbiased approach when helping you choose the company and the coverage options that best protect your ministry.
Our insurance specialists can help you assess your church insurance needs and provide solutions for:
Our team includes former pastors and missionaries who have chosen the field of insurance as a means of helping and protecting churches. This means that we have both the expertise and the understanding to help you make wise and informed choices as you steward the resources of your church. It's a simple vision – and it works.
Contact the church insurance staff at 1-800-942-5818 or complete the Church Insurance quote request form to learn more about the program.